---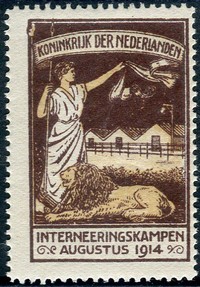 Price

£75.00

Stock Code

024258
INTERNEE MAIL : 1914 the unissued brown stamp (Mi I) unmounted mint. This stamp was planned to be used on mail from remnants of the Belgian army interned in camps in neutral Netherlands.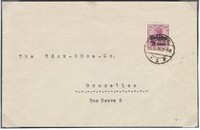 Price

£75.00

Stock Code

021529
75c (Mi 21) single franking on clean commercial cover from BRUSSEL cds, locally sent. This issue is scarce on cover (cat 200 Euros)
Price

£105.00

Stock Code

024257
INTERNEE MAIL : 1916 the issued green stamp (Mi 1) unmounted mint. This stamp was used on mail from remnants of the Belgian army interned in camps in neutral Netherlands.
RAILWAY T.P.O. CANCELS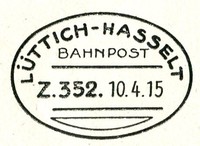 During the German occupation of Belgium (and northern France) during WWI, control of the railway system was a matter of military importance, directly under German control. Existing Belgian railway t.p.o. cancels were abolished, and replaced by oval German-style cancels. The letter "Z" refers to "Zug", i.e. the train route number. The following cancels are recorded :
Arlon-Virton
Brüssel-Antwerpen
Brüssel-Cambrai
Brüssel-Gand-Ostende
Brüssel-Herbesthal
Brüssel-Lille
Brüssel-Luxembourg
Brüssel-Metz
Brüssel-Mézières-Charleville
Brüssel-Mons
Brüssel-Namur
Brüssel-Valenciennes
Cambrai-Lille
Charleroi-Hirson
Charleville-St-Quentin
Chimay-Mariembourg
Cöln-Antwerpen
Cöln-Brüssel
Cöln-Laon
Cöln-Lille
Cöln-Lüttich
Cöln-Verviers
Courtrai-Lille
Dinant-Jemelle
Gent-Charleville
Gent-Courtrai
Givet-Mariembourg
Herbesthal-Laon
Herbesthal-Lille
Kortryk-Cambrai
Libramont-Ulflingen
Löwen-Charleroi
Löwen-Gent
Löwen-Turnhout
Lüttich-Antwerpen
Lüttich-Bleyberg
Lüttich-Charleroi
Lüttich-Hasselt
Lüttich-Jemelle
Lüttich-Luxembourg
Lüttich-Namur
Lüttich-Tergnier
Lüttich-Trois-Ponts
Luxembourg-Jemelle
Luxembourg-Namur
Luxembourg-Trois-Ponts
Metz-Charleville
Metz-Conflans
Metz-Vigneulle
Montmédy-Verdun
Namur-Charleville
Pepinster-Ulflingen
Thielt-Charleville
Trier-Charleville-Rethel
Trier-Charleville-St-Quentin
Virton-Houyet
In theory, reverse direction versions would exist for all up and down routes, e,g, Luxembourg-Namur and Namur-Luxembourg. Only the first alphabetically is listed here.
This listing is based on "Les Bureaux Ambulants de Belgique" by D. D'Hondt, Bruxelles, 1936.