TRANSATLANTIC MAIL (025966)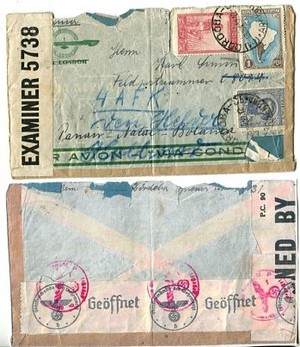 Price

£30.00

Stock Code

025966
TRANSATLANTIC MAIL (025966)
airmail cover from Argentina, 20c, 25c, 1P stamps, CORDOBA cds, apparently via USA with EXAMINER 5738 label, further German censor label and cachets, to Feldpost 08024, 1942 (Eastern front? this Feldpost number was in Ukraine in 1943). Battered but characterful.


Click image for a larger view of this item...
---