---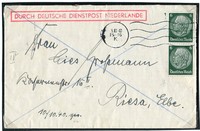 German troops invaded the Netherlands on 10th May 1940 and the Queen and government were forced into exile in England on 15th May. The administration of the country was put into the hands of Dr Seyss-Inquart, with local administration continuing but under German direction and control. The Dutch postal service continued in operation, but a higher priority service, the Deutsche Dienstpost Niederlande, was set up, staffed entirely by German personnel, for the needs of the German occupation admininistration. The first offices opened on 5th June 1940, at den Haag (HQ), Herzogenbusch and Zwollen, followed shortly by Amsterdam and Rotterdam. Eventually 39 towns had offices connected to the Dienstpost operation in the Netherlands.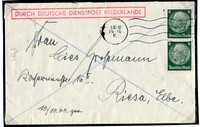 Price

£20.00

Stock Code

018600
cover with 2 x 6pf Hindenburg, dumb roller cds (Den Haag), red boxed DURCH DEUTSCHE DIENSTPOST NIEDERLANDE cachet, from the Inspector of Justice at Den Haag, to Riese, Germany, 1940
NETHERLANDS DIESTPOST OFFICE CHECKLIST
The following towns operated Dienstpost services :
ALKMAAR
ALMELO
AMERSFOORT
AMSTERDAM
ALELDOORN
ARNHEIM
ASSEN
BAARN
BERGEN OP ZOOM
BREDA
BUSSUM
DEVENTER
DORDRECHT
EDE
EINDHOVEN
EMMEN
GOES
GRONINGEN
DEN HAAG
HAARLEM
HARDERWIJK
HARLINGEN
DEN HELDER
HENGELO
HERZOGENBUSCH
HILVERSUM
IJMUIDEN (auxiliary office only)
LEEUWARDEN
MAASTRICHT
MIDDELBURG
NIJMEGEN
OLDENZAAL
ROOSENDAAL
ROTTERDAM
TILBURG
UTRECHT
VENLO
WINSCHOTEN
ZUTPHEN
ZWOLLE
As a German postal service, the German form of the town name was sometimes used, for example DEN HAAG for 's-Gravenhage, or HERZOGENBUSCH for 's-Hertogenbosch.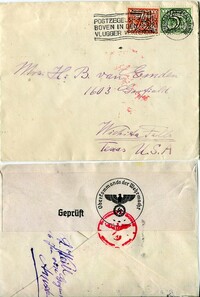 Price

£35.00

Stock Code

024934
GERMAN OCCUPATION TO USA (024934)
5c on 3c and 7½c on 3c (SG 523,524) on cover from AMSTERDAM cds, Nazi eagle cnsor strip and red cachet on reverse, to Texas, USA, 1941, scarce mail which reached the US despite the British blockade