Heimatsammlung (Strassburg)
---
The concept
Heimatsammlung is a collection about a town where you live, or which you love. Stamps, postal history, viewcards and other paper ephemera mix to make a mini-museum about one town. It is a specially German concept, which is rooted in the history and economic geography of the country.
Germany had a long history of individual States, each with a unique identity. Only on 1872 did the state of Germany come into being. Then in the following 100 years, the mixed fortunes of war brought into being new regions like the Saar and other 1920s Plebiscite territories, the annexed regions like Wartheland and the Generalgouvernement, the postwar Zones and a politically divided Germany.
The economic geography of Germany produced a relatively large number of small industrialised towns, each with a special industry and individual character. From this grew a strong sense of local interest in the history of own's own or chosen town.
The material
The core of a Heimatsammlung is stamps, postal history, and viewcards. Supplementary material might include actual historic photos, engravings, firm's letter heads, maps, transport tickets, political pamphlets and other paper ephemera. There are no exact rules; the choice of supplementary material is only decided by what is relevant to the chosen subject. A Heimatsammlung collection for Hamburg or Bremen could include shipping documents and warehouse fee revenue stamps; a collection for a touristic mountain resort might offer hotel views and hunting publicity advertising stamps.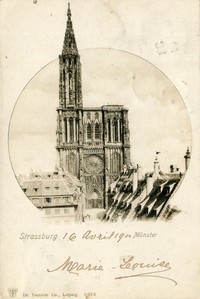 The title here is deliberately bilingual. Sometimes German, sometimes French, the city has usually been the cultural and commercial fulcrum of links between Germany and France, but in harder times, it could be a border town garrisoned against a hostile enemy.
I'm showing here some examples, mainly from my personal collection for Strassburg/Strasbourg, to show a timeline of the city.
I have no family links with the city, but as a schoolboy became fascinated with the idea of being a "European citizen" and the aim of the Conseil de l'Europe, encouraging Europe to work together (well, there is some debate...) while keeping regional differences. A Heimatsammlung for this city shows its varying fortunes as a hub of international exchange or as a bastion of national defence.
The cathedral, in mainly high Gothic style (illustrated here on an early postcard of c1900), was largely built from 1225, but incorporates some earlier features, e.g. the choir in romanesque form. The north tower, financed by the sale of indulgences, was completed in 1439 and made the cathedral the world's tallest extant mediaeval building. The planned matching south tower was never built, owing to due to shortages of funds, changed attitudes to church building in the Reformation, and structural problems. Thus, the unusual single tower cathedral has become an instantly recognised symbol of Alsace.
1683 CLAUSA GERMANIS GALLIA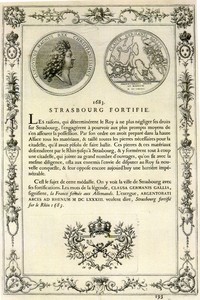 When Louis XIV captured the left bank of the Rhine in 1681, he ordered Vauban to construct elaborate fortifications at Strasbourg. A commemorative medal of 1683 bears the inscription CLAUSA GERMANIS GALLIA (The Germans are excluded from France). Source : "STRASBOURG FORTIFIE_1683.jpg, a title by Defranoux (Own work) [CC BY-SA 4.0 (http://creativecommons.org/licenses/by-sa/4.0)], via Wikimedia Commons https://commons.wikimedia.org/wiki/File: STRASBOURG_FORTIFIE_1683.jpg#/media/File STRASBOURG_FORTIFIE_1683.jpg"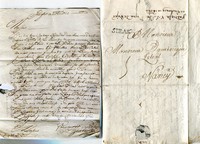 Although Strasbourg was annexed by Louis XIV of France in 1681 and defences built against the Germans, it kept many of its commercial links with other towns of the Holy Roman Empire. However, the new régime brought a break in postal connections across the Rhine. Merchants were obliged to use trade travellers to carry mail themselves to Strasbourg, where a commercial forwarder would arrange the letter to be sent on through the French mail system, for a fee or as a favour. Shown here is a letter of 1730 from Frankfurt, carried privately to Strasbourg, where the forwarder Jean Jacques de Beyer arranged for it to be mailed through the French post ("STRAS" straightline cancel of Strasbourg) to its final destination in Nancy.
The French departments were created in 1791, replacing Ancien Régime provinces, as the first administrative level below the central state. Former boundaries were changed and most departments were named after rivers or geographical features, in order to reduce old loyalties to Royalist nobility. Strasbourg became capital of Department 67, Bas Rhin (Lower Rhine) - which it still is today. Shown here is another privately carried letter, from Basel in Switzerland, put in the postal mail at "67 / STRASBOURG" and sent to Colmar, 1797.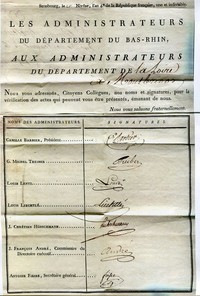 This proclamation of 25 Nivose An 4 (15 January 1796) provides actual signatures of the seven members of the revolutionary administration of Bas-Rhin, at Strasbourg. The signatories were Camille Barbier (President), G. Michel Treiber, Louis Lentz, Louis Liechtlé, J. Chrétien Hübschmann, J. Francois André (executive commissioner of the Directoire), and Antoine Fiesse (secretary general). Examples were sent to all other departments (this one was mailed to the Dept de la Loire) so that revolutionary orders and communications from other fraternal departments could be verified as being authentic and genuine, rather than forgeries by counter-revolutionary imposters.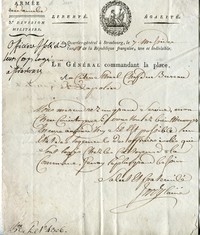 The Armée du Danube was formed by Jean-Baptiste Jourdan during the Revolution, with a view of conquering the Upper Danube region. Initially repulsed by the Archduke Charles, it fell back on Strasbourg. This official letter of 7 Messidor An VII (25 June 1799) comes from this time, with its HQ in Strasbourg, and relates to requisitioning lodgings for the military. Later in 1799 this Army was regrouped with the Armée du Rhin under General Masséna and beat Austrian and Russian forces at the battle of Zurich.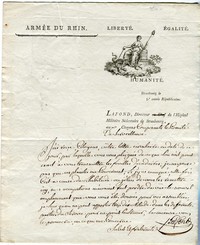 The Armée du Rhin was created on 14th December 1791 to defend France's eastern frontier, where the Austrians were massing along the borders of the Rhine and threatening Strasbourg. This letter (year III of the Republic) from the Director of the Military Hospital in Strasbourg complains of the excessive demands of paperwork at a time when more critical matters were on hand.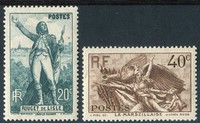 Facing imminent attack by the Austrians, on 25th April 1792, the mayor of Strasbourg, Philippe Friedrich Dietrich, asked his guest, Claude Joseph Rouget de Lisle to compose a martial song to help rally the troops. The result, "Chanson de Guerre pour l'Armée du Rhin" (probably to a score by Viotti of Piedmont) was dedicated to Marshal Nicolas Luckner, a Bavarian fighting for the French. The words "Allons enfants de la Patrie / Le jour de gloire est arrivé..." were taken up by volunteers from Marseille, hence it acquired its common name "La Marseillaise" and eventually became the French national anthem.
Strasbourg did come under attack a few days later by the Austrian forces but they were repulsed at the Battle of Valmy. Did the song save the day? The majority of troops raised locally were German-speaking Alsatians, therefore their version of the song was "Auf, Brüder, auf dem Tag entgegen..." - another example of the mixed Franco-German nature of Alsace.
The centenary of the death of Rouget de Lisle was commemorated in 1936 by an issue of two French stamps.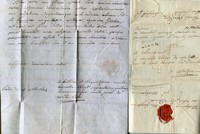 In 1804 Napoleon was made Emperor, and consolidated his conquests and administrative rule in the areas of Europe controlled by the French armies. The virile anticlericism of the Revolution was relaxed and frontiers became more open. A letter of 1804 demonstrates the new Europe - an ecclesiastical letter in Latin from Liège (today Belgium) to the bishop of Waitzen (today Vác in Hungary) was directed through Strasbourg to reach its destination - Strasbourg had become the transit point for the new Napoleonic Europe.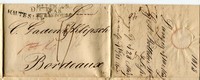 Louis XVIII was restored to power with Allied support, following the defeat of Napoléon. The return to peace opened the doors again to trade and shipping across Europe. This letter of 1818 from DANZIG to Bordeaux reports on shipping and commodities and arrived through the French entry post office ALLEMAGNE PAR STRASBOURG, then via HAUTESANE (presumably Haute-Saone) and on to the firm Gaden & Klipsch, German shippers from Magdeburg who had based themselves as wine shippers on the Chartrons quay in Bordeaux in 1803. Another example of Franco-German enterprise with Strasbourg as the fulcrum.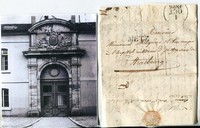 Constructed by Vauban in 1692, and extended 1731 and 1735, the hospital was still in use for its intended purpose in 1826 when this letter was written from METZ (straightline cancel) to a M. Meynier, assistant Major at the hospital.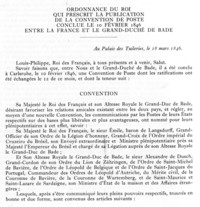 1846 POSTAL CONVENTION WITH BADEN
An agreement was made with the Grand Duchy of Baden to establish agreed rates for cross-border mail, and to collect mail destined for mutual exchange; on the French side at the offices of Paris, Colmar, Neuf-Brisach, Saint-Louis, and Strasbourg; and on the Baden side at Freybourg, Kehl, Loerrach, and Alt-Brisach. These arrangements were set out and proclaimed by statutes from February to April 1846 and came into effect on 1st May 1846. The text of the Act is shown here (2 pages). At the same time special rates (effectively, local rates) applied to mail travelling not more than 6 miles into German territory. Strasbourg was partnered by the Act to Kehl (just across the river) and 28 German postal localities therefore now came within a cheap tariff from Strasbourg. The list of these localities is also given here.
1861 OSCAR BERGER-LEVRAULT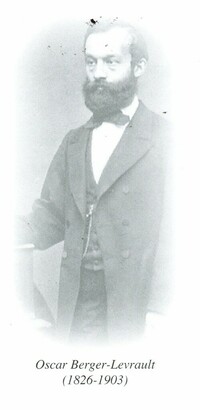 Born 1826 in Strasbourg, he became a bookseller and small publisher. He was also an early stamp collector, and published the world's first list of stamps in September 1861, with 973 stamps and postal stationery from all countries of the world, as known to him at that time. Only about 40 or 50 copies were printed, and one survives in the British Museum. After the Franco-Prussian War, he moved to Nancy, where he died in 1903.
1872 ESSAYS FOR NETHERLANDS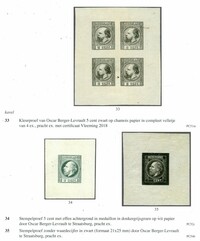 The Strasbourg publisher and stamp collector Oscar Berger-Levrault (see above) entered a competition to design the 1872 Willem III issue for the Netherlands. His essays were significantly similar to the final stamp, although a Dutch printer was finally chosen to produce the issued engraved stamps. The Berger-Levrault essays and trials exist in black and in various colours, with or without value, and a few showing additional border of colour. Corinphila veiligen av of Amsteveen offered a number of these proofs in their September 2018 auction of the Dr Albert Louis collection, with starting prices ranging fom 100 Euros to 750 Euros.
1932 SOFIA-STRASBOURG FLIGHT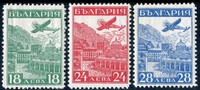 The 1930s were a period when thoughts were on the increasing possibilities of air flight. The 1932 Strasbourg Philatelic Exhibition organisers tried to arrange a special flight between Sofia, Bulgaria, and Strasbourg. Suddenly far away places were getting more accessible. For Strasbourg, it showed the city at a new hub of European air connections. For Bulgaria it was also a coup, putting Bulgaria on the map with better connections to western Europe. The Bulgarian post office issued a set of three airmail stamps, depicting a a Junkers G31 over Sofia. 30,000 sets were produced, valid for postage only on the special flight service between 11th and 20th May 1932. 9000 sets were sold to the public, and the remaining 21,000 sets were withdrawn and apparently still lie in the state archives. Unfortunately there were problems arranging the flight and mail posted bearing these stamps, intended for the special flight, was actually sent by regular mail service (train) to the destinations. Current stamp catalogues show the mint set valued at about twice the used price, perhaps because of its thematic appeal (where mint stamps are more in demand). However, used stamps are actually scarcer and also harder to find in full sets.
The route had already been planned since the 1920s by the Franco-Romanian Aviation Company, who in the 1930s developed into CIDNA (Compagnie Internationale de Navigation Aérienne), operating the route Paris-Strasbourg-Prague-Vienna-Budapest-Belgrade-Sofia, then with an option to Bucharest and Istanbul, or to Salonica and Athens. This roughly matched the route of the Orient Express (usually a train journey of three days) but CIDNA advertised their "Flêche d'Orient" air route as "Passengers,Freight, Post - in a single day". In the same year as the 1932 Sofia-Strasbourg flight, Paul Morand brought out a popular novel (French aviators bet a Russian in exile in Paris that it is possible to travel from Paris to Bucharest in the same day - and they win the bet).
MORE SHORTLY...
This philatelic timeline on Strasbourg is a continuing story. More will be launched in a few days. Keep an eye on the website!