1846 POSTAL CONVENTION WITH BADEN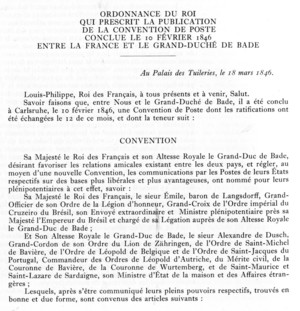 1846 POSTAL CONVENTION WITH BADEN
An agreement was made with the Grand Duchy of Baden to establish agreed rates for cross-border mail, and to collect mail destined for mutual exchange; on the French side at the offices of Paris, Colmar, Neuf-Brisach, Saint-Louis, and Strasbourg; and on the Baden side at Freybourg, Kehl, Loerrach, and Alt-Brisach. These arrangements were set out and proclaimed by statutes from February to April 1846 and came into effect on 1st May 1846. The text of the Act is shown here (2 pages). At the same time special rates (effectively, local rates) applied to mail travelling not more than 6 miles into German territory. Strasbourg was partnered by the Act to Kehl (just across the river) and 28 German postal localities therefore now came within a cheap tariff from Strasbourg. The list of these localities is also given here.
The postal treaty was part of a much larger treaty with Baden, to encourage trade and travel between the two countries. See KEHL BRIDGE a couple of entries below.


Click image for a larger view of this item...
---