---
RAILWAY T.P.O. CANCELS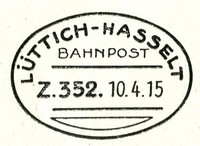 During the German occupation of Belgium (and northern France) during WWI, control of the railway system was a matter of military importance, directly under German control. Existing Belgian railway t.p.o. cancels were abolished, and replaced by oval German-style cancels. The letter "Z" refers to "Zug", i.e. the train route number. The following cancels are recorded :
Arlon-Virton
Brüssel-Antwerpen
Brüssel-Cambrai
Brüssel-Gand-Ostende
Brüssel-Herbesthal
Brüssel-Lille
Brüssel-Luxembourg
Brüssel-Metz
Brüssel-Mézières-Charleville
Brüssel-Mons
Brüssel-Namur
Brüssel-Valenciennes
Cambrai-Lille
Charleroi-Hirson
Charleville-St-Quentin
Chimay-Mariembourg
Cöln-Antwerpen
Cöln-Brüssel
Cöln-Laon
Cöln-Lille
Cöln-Lüttich
Cöln-Verviers
Courtrai-Lille
Dinant-Jemelle
Gent-Charleville
Gent-Courtrai
Givet-Mariembourg
Herbesthal-Laon
Herbesthal-Lille
Kortryk-Cambrai
Libramont-Ulflingen
Löwen-Charleroi
Löwen-Gent
Löwen-Turnhout
Lüttich-Antwerpen
Lüttich-Bleyberg
Lüttich-Charleroi
Lüttich-Hasselt
Lüttich-Jemelle
Lüttich-Luxembourg
Lüttich-Namur
Lüttich-Tergnier
Lüttich-Trois-Ponts
Luxembourg-Jemelle
Luxembourg-Namur
Luxembourg-Trois-Ponts
Metz-Charleville
Metz-Conflans
Metz-Vigneulle
Montmédy-Verdun
Namur-Charleville
Pepinster-Ulflingen
Thielt-Charleville
Trier-Charleville-Rethel
Trier-Charleville-St-Quentin
Virton-Houyet
In theory, reverse direction versions would exist for all up and down routes, e,g, Luxembourg-Namur and Namur-Luxembourg. Only the first alphabetically is listed here.
This listing is based on "Les Bureaux Ambulants de Belgique" by D. D'Hondt, Bruxelles, 1936.