The Vatican and Germany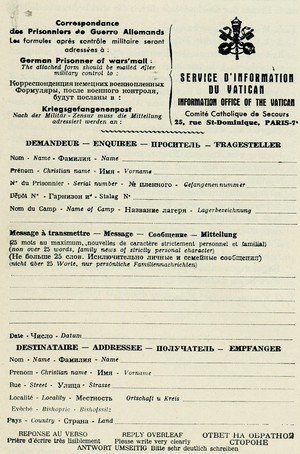 During WWI and especially in the immediate postwar period, the Vatican played a role in tracing missing persons, refugees and PoWs, and provided a means of exchanging messages where normal postal mail was prohibited. We offer a link here to an article by Winfried Kittel (in German) which appeared in "Der Vatikanstaat" in 1967.
First, the invasion of North Africa by the Afrikakorps in 1942 provided a need for relief operations and message services. In May 1942 the Vatican prepared 800 "Family Message" forms, and the need for these increased to about 3000 a month as the tides of war produced rising numbers of German and Italian prisoners in camps in Egypt and the Near East (see first paragraph of the "Deutschland" section of the article).
After the Normandy landings of the Allies, the Vatican set up an office in Paris in Autumn 1944 to assist with mail from German PoWs in France (see the "Frankreich" section of the article).
Finally, after the end of the war, the Vatican set up an office in Freiburg which handled 414,390 messages from PoWs and missing person enquiries in 1946. These forms were handled and delivered by Catholic volunteers, owing to the irregular operation of regular mail in the immediate aftermath of war, especially in eastern parts of Germany and former Poland (see the 2nd paragraph of "Deutschland" in the article).
To download the article, please CLICK HERE