Revenue Stamps - FOR SALE
John Barefoot is the leading publisher of a wide range of standard catalogues for revenue stamps. Areas covered include United Kingdom, British Commonwealth, many individual countries of Europe, and also South East Asia. For these, see our main website at www.JBarefoot.co.uk
---
Germany Revenue Stamp Project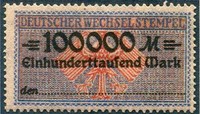 We are working on a new series of revenue stamp catalogues for Germany, to continue the tradition set by the pioneer, the late Martin Erler. These will be in our standard A4 3-column format, illustrated in full colour, and with current pricing.
For Germany, the books will be in 3 parts :
Part 1 : German States (including issues by the Länder from 1872-1945)
Part 2 : German Reich 1872-1945 (including Colonies, Plebiscites, Occupations, and III Reich period organisation/Party membership stamps)
Part 3 : Postwar (Zones, West Germany, DDR, and modern issues to Euro denomination)
Work on Parts I and II are nearly complete. Work will begin soon on Part III. Keep an eye on this site for more news shortly.
Work in Progress
We are looking for help with some sections. Some old black/white illustrations could be improved by colour scans (at 300 dpi, with the stamp on a black background to show the perfs, would be ideal). Also, for some sections, new finds are expected and any additions from collectors would be welcomed by your editor. If you have a good collection of German revenues and would like to help with the project, please get in touch. Some offers of stock for direct sale, are shown below.
Saar Municipal Revenue Stamps to 1945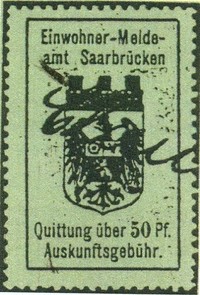 This is an on-going provisional listing of Saar Municipal revenue stamps in the period 1920 to 1945. It is only a private working document for use between J.Barefoot and other collectors.
To view IN FULL this listing (which can then be printed out for personal use only) please CLICK HERE
If you have new finds to add to the listing, or can supply better colour scans (ideally, 300 dpi, same size, with stamp on a black background to show the perforations, like the ones in the listing), please get in touch with us by email at JBarefootL@AOL.com