ROUGET DE LISLE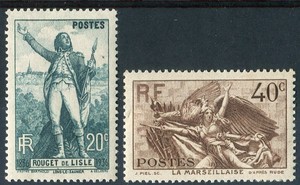 Facing imminent attack by the Austrians, on 25th April 1792, the mayor of Strasbourg, Philippe Friedrich Dietrich, asked his guest, Claude Joseph Rouget de Lisle to compose a martial song to help rally the troops. The result, "Chanson de Guerre pour l'Armée du Rhin" (probably to a score by Viotti of Piedmont) was dedicated to Marshal Nicolas Luckner, a Bavarian fighting for the French. The words "Allons enfants de la Patrie / Le jour de gloire est arrivé..." were taken up by volunteers from Marseille, hence it acquired its common name "La Marseillaise" and eventually became the French national anthem.
Strasbourg did come under attack a few days later by the Austrian forces but they were repulsed at the Battle of Valmy. Did the song save the day? The majority of troops raised locally were German-speaking Alsatians, therefore their version of the song was "Auf, Brüder, auf dem Tag entgegen..." - another example of the mixed Franco-German nature of Alsace.
The centenary of the death of Rouget de Lisle was commemorated in 1936 by an issue of two French stamps.